For Immediate Release
Occupy Wall Street Activists Disrupt Sen. Levin in AIPAC Conference Final Plenary: Don't Bomb Iran, Equality for Palestinians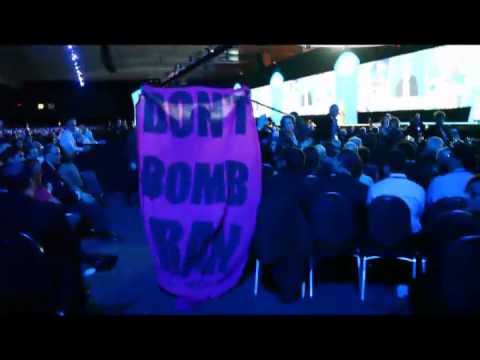 Washington, DC—On Tuesday, March 6, during Senator Carl Levin's address to AIPAC, an activist with Occupy Wall Street and CODEPINK unfurled a large "Don't Bomb Iran" banner and shouted "Don't bomb Iran; Equal rights for Palestinians." Responding to the theme of the 2012 AIPAC Policy Conference–Shared Values–the activist proclaimed, "Nonviolence is a shared value!" She was grabbed by security and escorted out of the building. The protesters were Katie Falkenberg and Paul Talbot from New York City, who have been dedicated Occupy Wall Street activists and are members of the Revolutionary Games Collective. They worked with CODEPINK and Occupy AIPAC to coordinate the action.
As head of the Senate Arms Services Committee, Carl Levin has been pushing for every war in the last 10 years, while his constituents in Detroit are suffering from lack of funds for social services, and high unemployment. Levin has supported crippling sanctions that only hurt the Iranian people instead of listening to the military leaders who have cautioned against war on Iran. Senator Carl Levin is fiddling with war while Detroit is burning.
Today's action was part of a week-long effort of Occupy AIPAC, a coalition of over 130 organizations, initiated by CODEPINK, that aims to highlight the destructive and undemocratic practices of AIPAC. On Monday, an AIPAC Conference panel on Iran featuring Congresswoman Ileana Ros-Lehtinen and Israeli Ambassador Jeremy Issacharoff was mike checked by Occupy activists who said, "We are the 99%; War benefits the 1%; Use diplomacy not bombs."
Occupy AIPAC urges Obama to reject the Israeli administration's push for war on Iran and insist on respect for Palestinian rights. This week's actions have drawn attention to the dangerous role of AIPAC as a special interest lobby that maintains a stranglehold over US policies. As the Occupy Movement has focused public ire on the role of large corporations and powerful lobby groups, hundreds have gathered in DC to protest AIPAC's push for war.