This video catalogues the tactics used by AIPAC members against protesters.
Ali Abunimah | Electronic Intifada
Activists briefly disrupted a private fundraiser of the powerful Israel lobby group AIPACat the Westin St. Francis Hotel in San Francisco on 4 December.
A video posted on YouTube shows three activists, who had been among a group demonstrating outside the hotel, marching into the private ballroom where the fundraiser was being held.
They were quickly surrounded and expelled, but not before shouting "Free Palestine" and other slogans at the attendees.
Captions in the video explain the activists' motivations:
Outside the hotel activists staged a noisy demonstration demanding among other things an end to US military aid to Israel.

We had been demonstrating at the Israeli consulate for weeks, standing, yelling, outside, often in the rain. After a short demo some of us were still dissatisfied. We wanted to be sure fundraiser attendees received our message. We hand-wrote some notes and delivered them…
One of the notes read, "Your $$$ goes to help fund the slaughter of innocent children and civilians. FREE PALESTINE."
The video captions direct people to stopaipac.org for additional information.
AIPAC has increasingly become a target of Palestine solidarity protests, especially at its annual policy conference, under the banner of Occupy AIPAC.
">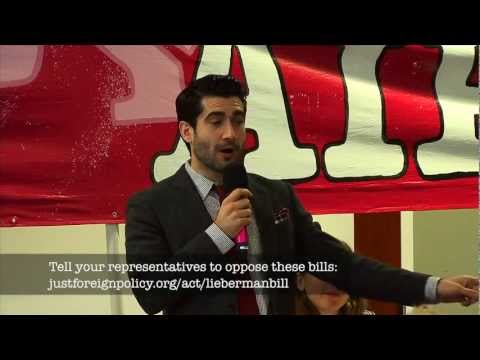 As organizations like AIPAC ramp up their congressional lobbying for war with Iran, it's of the utmost imperative that pro-peace advocates engage with their members of Congress as well. In this video, which contains highlights from a panel held during the 2012 Occupy AIPAC Policy Summit, three peace activists make the case for engaging with Congress to promote peace and prevent war.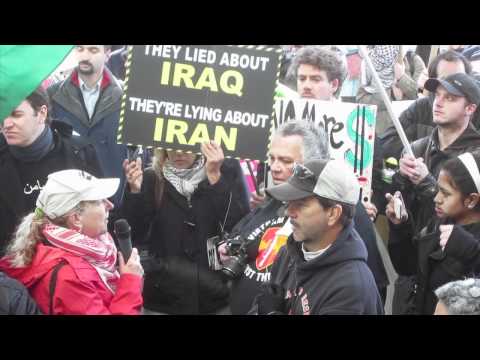 Occupy AIPAC was a weekend long series of events to put a spotlight on the abusive practices of the American Israel Public Affairs Committee (AIPAC). Coinciding with the annual AIPAC Policy Conference, on March 2-6 2012, we gathered in Washington DC for a policy-style summit on the issues of Iran, the Arab Uprising and Palestine and the affects of AIPAC in determining US foreign policy around those topics.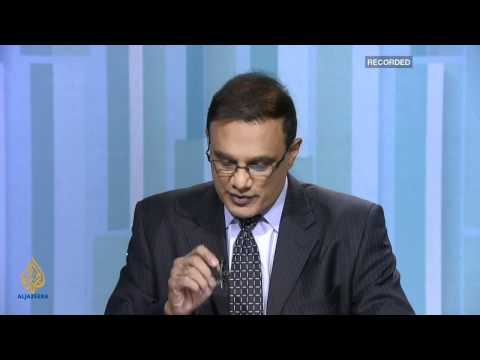 The American-Israeli Public Affairs Committee (AIPAC), the most powerful pro-Israel lobby in the US, is holding its biggest annual conference yet with around 13,000 delegates in Washington.
For all those bidding to become the next US president, it has become an essential campaign stop. The group has strong ties to the religious right and evangelical voters. And it is a very influential force in Washington politics.
Demonstrators from the occupy movement held a small protest outside the event urging no war on Iran and no US tax dollars for Israel.

Continue reading »
Please enable Javascript and Flash to view this Blip.tv video.
Josh Ruebner from the U.S. Campaign to End the Israeli Occupation details his report on U.S. Military Aid to Israel.
For Immediate Release
Occupy Wall Street Activists Disrupt Sen. Levin in AIPAC Conference Final Plenary: Don't Bomb Iran, Equality for Palestinians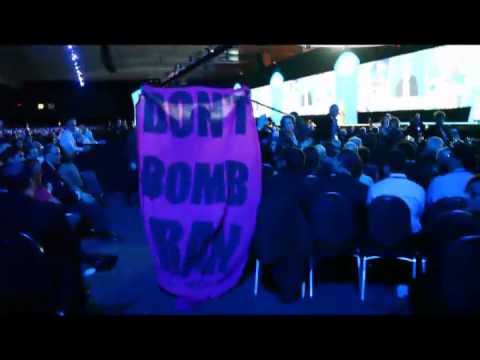 Washington, DC—On Tuesday, March 6, during Senator Carl Levin's address to AIPAC, an activist with Occupy Wall Street and CODEPINK unfurled a large "Don't Bomb Iran" banner and shouted "Don't bomb Iran; Equal rights for Palestinians." Responding to the theme of the 2012 AIPAC Policy Conference–Shared Values–the activist proclaimed, "Nonviolence is a shared value!" She was grabbed by security and escorted out of the building. The protesters were Katie Falkenberg and Paul Talbot from New York City, who have been dedicated Occupy Wall Street activists and are members of the Revolutionary Games Collective. They worked with CODEPINK and Occupy AIPAC to coordinate the action.
As head of the Senate Arms Services Committee, Carl Levin has been pushing for every war in the last 10 years, while his constituents in Detroit are suffering from lack of funds for social services, and high unemployment. Levin has supported crippling sanctions that only hurt the Iranian people instead of listening to the military leaders who have cautioned against war on Iran. Senator Carl Levin is fiddling with war while Detroit is burning.

Continue reading »